Reusing Your Plans in the Next Year
From Planbook for Mac Documentation
After you've successfully used Planbook to write and store your lesson plans, it's easy to reuse those plans in your next school term or year.
Most commonly, a teacher might have a fall semester that runs from September through January. In late January, Winter/Spring term begins and the teacher might want to reuse the Fall plans in the new term. Planbook makes it very easy to shift the start date of your plans to accomodate a new term.

To move your Planbook so that it starts on a new date, please first select the Schedule-->Migrate To New Start Date menu item.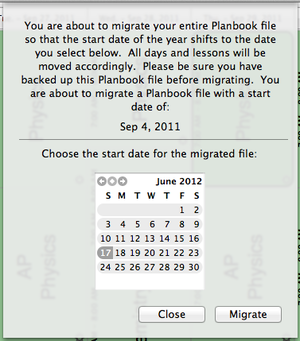 Once you've selected the Migrate menu item, a panel will appear asking you to select a new start date for the file. Using the calendar (which defaults to the last day of the term you've entered), you can select a new start date for the file. If you click Migrate, the file will be instantly moved so that it begins on the day you selected.
It's highly recommended to save a new copy of your file (using the File-->Save As) menu item after migrating your file so you don't overwrite your old file.